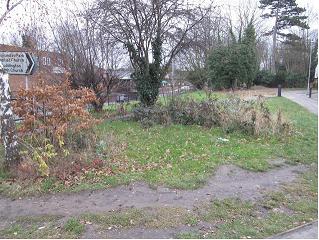 Worcester Park Baptist Church is inviting volunteers to help with with their project to spruce up the open space at the end of The Avenue over the course of the next two Saturdays.
Kingston Council laid a new path in February and arranged for the debris on the land to be cleared and for the grassed area which had been damaged by recent civil contract works to be topsoiled and seeded.
The church's part in this community outreach project, whose strapline is 'God loves you enough to die for you' will be cutting back the trees and restoring the flower beds near the traffic lights and generally tidying up the area (pictured).
The work is planned for the mornings of Saturday 10th and Saturday 17th March and anyone who wants to pop along and lend a hand is welcome. The volunteers will be planting evergreen and colourful shrubs - and daffodils of course, which they hope will be in flower for Easter.
The newly revamped site will then be used during the Easter weekend celebrations - Good Friday to Easter Sunday, 6th to 8th April.
Lucy Wright, Associate Minister Of The Church, explained:
""We wanted to show and share God's love with folk in the local community in a very practical way and partner with others. So we came up with the idea of restoring the open space at the end of The Avenue which had become a bit of an eyesore. "